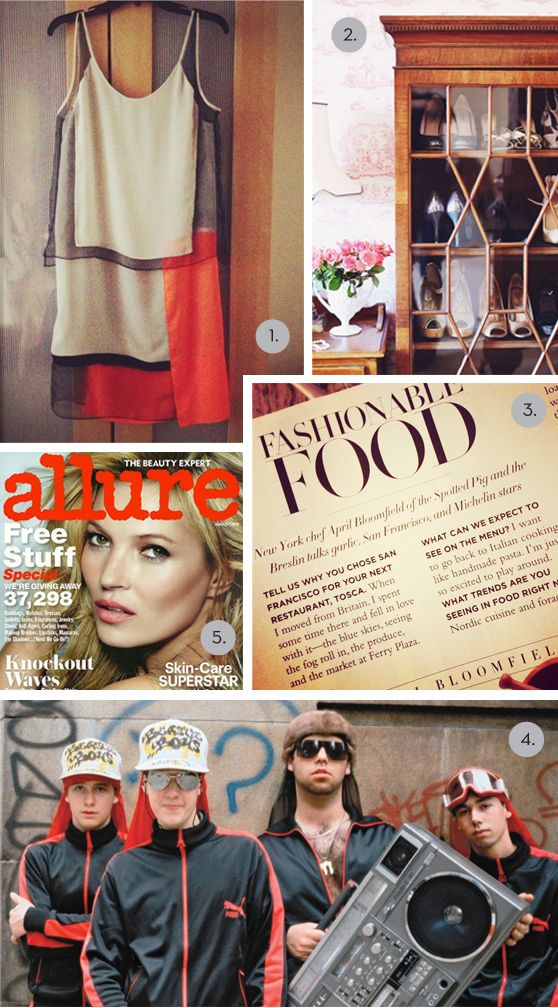 1. i didn't really go crazy during the summer sales, but i did get this
helmut lang dress
that i had my eye on for a while. / 2.
this is glamorous
(and
a glamorous little side project
) are two of my favorite blogs, and i love getting a peek into roséline's
home
on design sponge (and her cool way of storing shoes). / 3. to say i can't wait for the new
tosca
, helmed by april bloomfield of
the spotted pig
and
the breslin
is an understatement.
harper's bazaar
had a short interview with her in the august issue, along with her recipe for summer tomato soup. / 4. rick rubin has worked with some of rap's early pioneers—the beastie boys, run d.m.c., and ll cool j— not to mention adele, johnny cash, and the red hot chili peppers. in this
interview
with the daily beast, he talks about his long career and recent collaborations with jay z and kanye west. / 5. how beautiful and fresh does kate moss look on the cover of august's
allure
? very seasonally appropriate at a time when most fashion mags are going heavy for fall.
wishing you a wonderful weekend!